Dental Crowns: Restore Broken, Damaged, or Decayed Teeth in a Single Visit
A broken, decayed, or infected tooth can cause unnecessary pain and discomfort, making your day-to-day life more difficult.
A dental crown can be used to repair a badly damaged tooth. When attached to a dental implant, a crown can also replace a missing tooth.
At Iroquois Family Dentistry in Nashville, TN, our dentists use the latest technology to help patients enjoy the various benefits of dental crowns...
Need Dental Treatment? Request a Consultation at Iroquois Family Dentistry
Do you want to treat a damaged tooth without waiting for a temporary crown or looking like you've had dental work done? At Iroquois Family Dentistry in Nashville, TN, we have the training and technology to provide permanent, lifelike restorations in a single appointment. Our dentists are affiliated with several renowned organizations, including:
American Dental Association
Academy of General Dentistry
American Academy of Cosmetic Dentistry
In most cases, we can prep your tooth, create your crown, and place your permanent restoration in just one office visit. To get started, request your appointment online or call:
(615) 298-2040
We've Earned over 1000 5-Star Reviews
Had to get a crown and also get a cavity filled. Dr. Parkes was great! Made it as painless as possible and called me that evening to see how I was doing. I've never gotten a call from a dentist to see if I was doing ok! Thank you so much!
View On Google
Dr Parkes, Dr Keenan & the ENTIRE team at Iroquois Dentistry are nothing but TOP NOTCH all around. There is absolutely no one else I would trust with my dental needs. THE BEST. 10 STAR!!!!
View On Healthgrades
Why Visit Our Nashville, TN, Office for Dental Crown Treatment?
Many patients with dental issues are worried about needing a crown because they fear a lengthy or involved procedure. Traditionally, the dental crown procedure requires two appointments. But thanks to our CEREC technology, we are able to offer speed, convenience, and precision.
With this advanced system, our Nashville, TN, team can provide same-day restorations, including both traditional and implant-supported dental crowns. There is no need for temporary crowns or multiple visits. Even if you need a root canal or other preparatory procedures, your entire treatment can often be completed in one appointment.
Because we use CEREC, we can also offer benefits such as:
Customized results: CEREC gives our team complete control over the entire treatment process, and we can adjust your crown until it is a near-perfect fit.
Natural appearance: IPS e.max is slightly translucent, just like your dental enamel, and comes in a wide array of shades. This means the shine and color of the material can match the rest of your smile.
Efficiency: The CEREC system is incredibly fast, so we can create and attach your crown in a single appointment.
Convenience: With faster treatment, you will not have to deal with the inconvenience of a temporary crown or repeated trips to our office.
We Use the Latest Materials to Ensure Long-Lasting, Natural-Looking Results
Thanks to the precise, digital technology of CEREC, our dentists can create dental crowns that are virtually identical to natural teeth. In addition, our crowns are made from IPS e.max®. This advanced form of porcelain is very durable, and it provides a realistic appearance unrivaled by many other restorative materials including resin, gold, and silver.
Although composite resin can be carefully matched to the color of your teeth, it does not offer the same longevity as porcelain. After you receive your crown from our Nashville team, you can enjoy a highly aesthetic and fully functioning smile for many years. Our crowns are preferred for several reasons: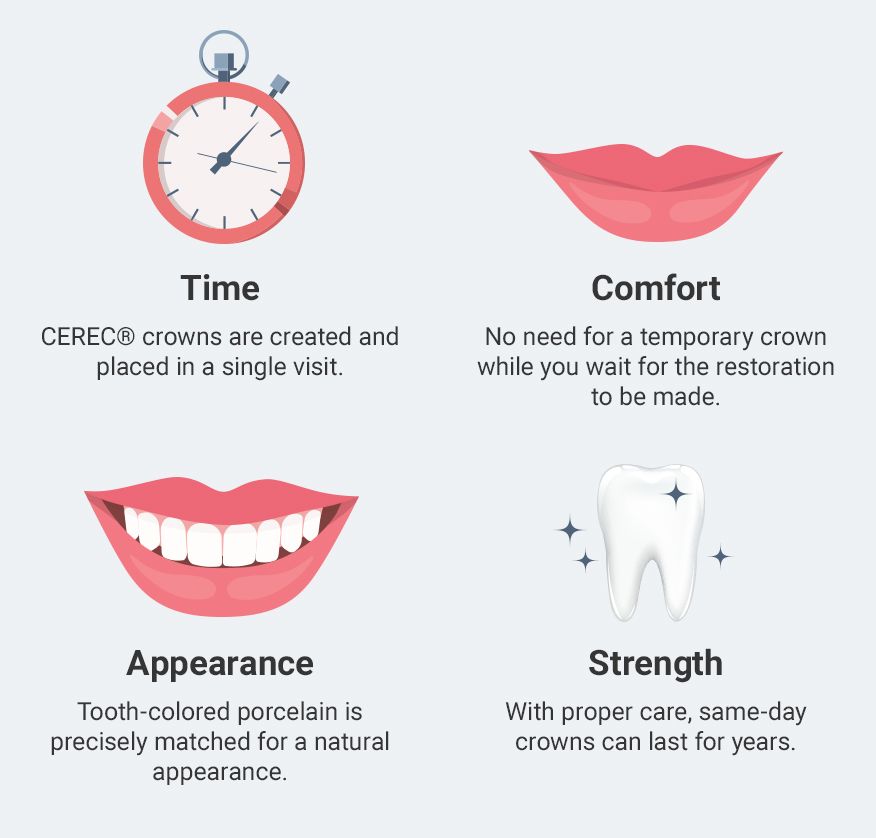 More Reviews from Patients
I've been going to Iroquois for almost 20 years. Have always loved their attention to detail, calling to check on their work when I've had a filling or a crown, and just taking great care of me.
View On Facebook
The best dentist office experience I've ever had. I'm new to Nashville and had a couple jobs since I've arrived and they're very transparent about different insurance payments and make it super easy. Also their hours are very convenient! Recommend to all my friends new to Nashville.
View On Google