A missing tooth or teeth can have a significant impact on the appearance of your smile, the function of your bite, and your self-confidence.
Dental implants provide a stable base for advanced restorations so that you can bring form, function, and health back to your smile.
Learn how Iroquois Dentistry in Nashville, TN, can revitalize your smile with dental implants...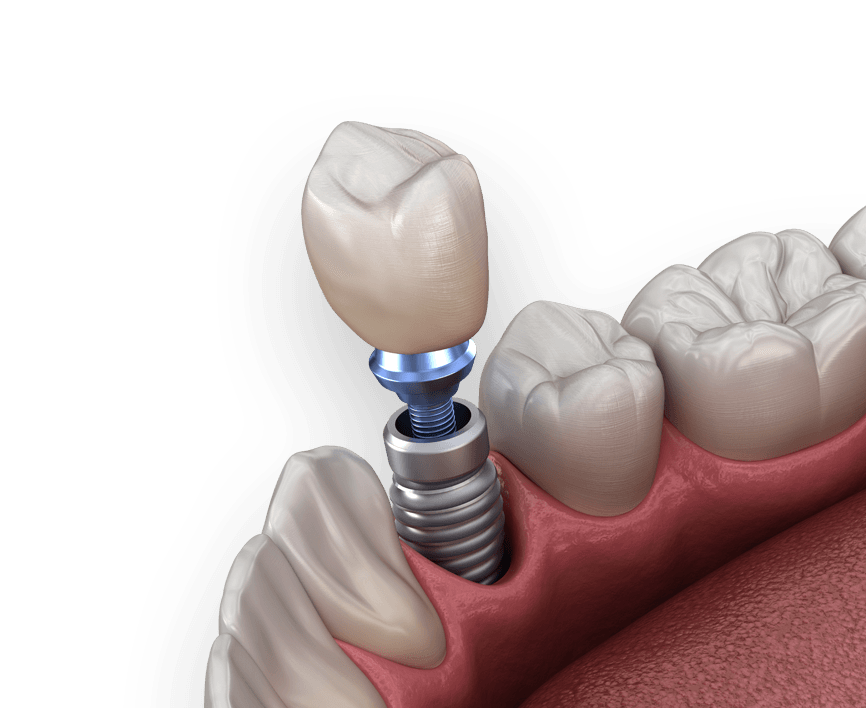 Advanced Technology for Superior Tooth Replacement
If you are missing teeth, implants offer the most secure and realistic restorations available. That is why Iroquois Dentistry in Nashville, TN, proudly offers state-of-the-art dental implant treatment.
Dental implants can replace a missing tooth or teeth and protect your long-term oral health by stopping the bone loss that naturally accompanies tooth loss. Our team can provide a long-lasting and remarkably stable foundation for restorations such as dental crowns, bridges, and dentures with dental implants.
We use digital impressions to create custom restorations with a near-perfect fit.
Our practice uses CEREC® technology and years of experience to craft natural-looking restorations conveniently, quickly, and with the utmost precision. Our Nashville dentists can oversee your entire dental implant treatment in one location to ensure the highest level of care possible.
Same-Day Restorations with CEREC
Once you have healed following
implant surgery
, we will use our CEREC system to take impressions of your gums and natural teeth. These
highly detailed scans
allow us to design a restoration that will have a
near-perfect fit and an incredibly natural-looking appearance
. Your crown, bridge, or denture will then connect directly to the implants using the abutments or specialized dental cement. If you are receiving an implant-supported crown or bridge, we may be able to conveniently
create your restoration in our office in a single appointment
.
Precision Tools & Techniques ...
Won This Patient Over
"I've had both an implant through Iroquois and two minor procedures. The absolute care and detail are outstanding ... As soon as KB started, I knew it would look completely different with him because of the precision tools/techniques he was using. He didn't settle for 'eh, it'll work'."

Sheri Traxler
Dental Implants: A Revolutionary Tooth Replacement Option
Schedule an Implant Consultation
Dental implants and implant-supported restorations are an important investment in yourself. It is important to visit a practitioner who can provide the best possible results. Our office has provided outstanding care to Nashville, TN, since 1946. Each of our dentists, Drs. K.B. Parkes, Gary Waltemath, Karen S. Keenan, and Tyler Smith, is experienced in implant dentistry and know how to create personalized, beautiful, and natural-looking restorations. We offer bundle packages for more affordable treatment and also accept financing.
During an appointment, we can assess your candidacy, explain the cost of treatment, and answer any questions you have. To learn whether you can benefit from dental implants, contact Iroquois Dentistry online or call our Nashville office at:
5-Star Reviews
Hear from Real Patients...
The best dentist office experience I've ever had. I'm new to Nashville and had a couple jobs since I've arrived and they're very transparent about different insurance payments and make it super easy. Also their hours are very convenient! Recommend to all my friends new to Nashville.
View On Google +
I LOVE Iroquois Dentistry. They are very organized and I rarely wait long for my appointment. The staff is friendly and caring and they seem to have a great rapport with each other, too. Dental work isn't always fun, but I genuinely enjoy my appointments here.
View On Google +
If You Are Missing a Tooth,
You Are Not Alone
Implant Surgery
Dental implants are precisely placed in the jawbone using surgical guides during a minor, outpatient surgery at our Nashville, TN, office. Sedation is available to ensure your comfort.
Over the next four to six months, the titanium posts will fuse with your bone during a process called osseointegration. Eventually, the dental implants will act like the roots of the missing tooth, and become a permanent part of your jaw.
Abutment Placement
After this first healing period, your doctor will place an abutment on the implant or implants. Abutments are small connector pieces that are used to attach a restoration such as a dental crown. A second recovery period will be needed so your gums can heal around the abutments.
Attaching Your Restoration
Once you have fully healed from the abutment placement, about two weeks later, we can attach your replacement tooth, bridge, or denture to your implants. Although dentures generally require a couple of weeks or more to craft off-site, we can often provide same-day crowns and bridges using our in-office CEREC milling machine.
An Outstanding Job ...
Making Me Feel Comfortable
"Dr. Smith along with Tammy his assistant, did an outstanding job preparing me for my implant. They made sure that I was completely comfortable and every question was answered. The new office is absolutely gorgeous! ... I HIGHLY recommend Iroqous Dentistry to help you with all your dental needs."

Tina Stokes
Are Missing Teeth Impacting Your Life?
Bring Back Your Confidence
Missing teeth affect more than just your smile. It can make it hard to eat and can even alter how you talk. Over time, your face may look aged as bone deteriorates. And gaps caused by missing teeth let other teeth shift out of place, leading to additional dental problems.
Dental implants, especially when placed promptly by one of the skilled dentists at Iroquois Dentistry in Nashville, TN, can restore the simple pleasures you've been missing and avoid a cascade of oral health problems.
The compassionate, top-rated dentists at our Nashville practice use proven methods and the latest, exacting technology to create beautiful smiles and bring lifelong benefits to your health.
Send us a message or call us today to learn how you can turn back the clock and restore your smile:
Can You Tell the Difference?
We Use Top-Tier Materials
And Advanced Techniques
As they say, a craftsman is only as good as his materials. That's why we use only top-tier materials for our dental implants to create results that are not just beautiful, but also reliable and long-lasting. We rely on Nobel implants that have a proven track record. Nobel was an early provider of implants and their long-standing reputation speaks to the quality of their work.
Our dedication to excellence extends to our state-of-the-art technology that takes the guesswork out of implants. We use advanced technology to create a precise 3-D impression of your mouth that will be used to create a custom surgical guide to accurately place your implant.
Our cutting-edge procedures ensure predictable outcomes by placing the implant in the most advantageous position in your jaw. Our precision extends to the creation of the crown, bridge, or denture to ensure that it is functional, natural-looking, and, most importantly, designed for long-term success.
Benefits of Guided Implant Surgery
More accurate implant placement
Reduced disruption to the bone and surrounding tissue
Improved success rates for integration of the implant
Better aesthetic results
Minimizes risk of damage to nerves, sinus cavities, and neighboring teeth
Precise control of alignment angles when replacing multiple teeth
Are You Worried about Surgery?
We Offer Sedation Dentistry
Modern-day dentistry and the use of state-of-the-art technology lets patients receive treatment for missing teeth with little to no discomfort. Our dentists use precise surgical guides that reduce the impact on the jawbone and surrounding tissue. This leads to less discomfort and quicker recovery times.
If there is discomfort after the procedure, over-the-counter medications are typically all that's needed to manage it. But we understand any kind of surgery can be concerning, so we offer sedation dentistry tailored to your needs:
Nitrous Oxide Sedation
Oral Conscious Sedation
IV Sedation
I went in for a routine cleaning. The staff was friendly. My hygienist Mary was gentle and thorough (and fun to talk to). Dr. Keenan did the oral exam and was also fun to talk to. My teeth felt great when I left.
View On Google +
My visit yesterday was outstanding as always! Great professional team that took care of me in a timely fashion. Front desk is always courteous and friendly. Dr. Keenan goes above and beyond to take care of me and my family. I could not be happier with my choice for dental care! I give them the highest rating.
View On Google +
Implants vs. Other Procedures
Dentures
and
traditional bridges
are the standards for replacing lost teeth and they have been widely used for decades. Plus, the lower initial cost can make them appear attractive. However, when comparing implants to these traditional methods, it's important to also weigh lifetime costs and the impact of these older procedures on your oral health. Dental implants are:
Designed to Last a Lifetime
When cared for properly, dental implants can last 40 or more years. The restoration will need to be replaced periodically, but the implant itself can last a lifetime.
Proven to Be More Reliable
Studies have shown that bridges have a failure rate as high as 10 percent in just three years. On the other hand, dental implants have a long-term success rate of more than 95 percent.
More Convenient
Traditional dentures do not stop bone loss. As bone is lost, your dentures will need to be adjusted to avoid slipping and painful rubbing that can cause sores. Over time, the costs of relining and adjusting your denture will add up.
Better for Your Health
Without implants, dentures and bridges do not stimulate the bone in your jaw to grow and replenish itself. This deterioration can cause new oral health problems while also giving your face a sunken, aged look. Implants are the one and only treatment that can stop this bone loss that leads to additional dental problems.
We Customize Our Treatments to Your Unique Needs
Iroquois Dentistry has been a part of the fabric of Nashville since 1946. We make a point of getting to know our patients so that we can cater to their unique needs and address concerns they may be hesitant to talk about. By taking the time to get to know our patients, we are able to tailor our services to their goals and maximize their oral health.
If you don't want to be just another face, let our compassionate team of professionals introduce you to a different kind of dental care. One grounded in relationships that can last a lifetime.
Contact Iroquois Dentistry in Nashville, TN, to request a consultation so you can experience firsthand what we have to offer. Use our convenient online form or call:
Are You Concerned about Costs?
How Our Nashville Practice Can Help
Implants are rarely covered by insurance so we understand our patients' concerns about costs. The initial cost of dental implants can appear intimidating. That's why we offer a bundle package that allows us to provide dental implants at a much more affordable rate.
It also helps to understand that the process of placing dental implants is broken up into two stages: the surgical placement of the implants and placement of the restoration. Because the two steps are generally four months apart, the patient is able to spread out the cost over a period of time.
We also offer flexible payment methods in addition to our bundle package that reduces costs. When insurance doesn't cover all your costs, the rest can usually be managed with:
CareCredit® financing
Our in-house low-interest and interest-free payment plans (some restrictions may apply)